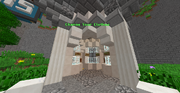 The Wardrobes were places where players can customize how they look. They could be found from the two corners near the spawn of the Lobbies. They were previously situated in all 4 corners but two of them got removed when Arcade was released. Wardrobes were removed completely on the 1st April 2016 when the new Cosmetics were introduced. The wardrobes had two pressure plates; one for hats and the other for clothing. On the 3rd January 2015 Wardrobes were updated so that they sync across all the Lobbies. Before this players had to choose an outfit separately on every Lobby. When you exited the Wardrobe menus, it said "Enjoy Your New Outfit".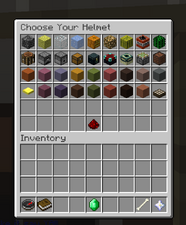 List of Helmets
Bedrock
Sponge
Glass
Ice
Jack O'Lantern
Glowstone
Melon Block
TNT
Cactus
Workbench
Furnace
Dispenser
Chest
Ender Chest
Enchantment Table
End Portal Frame
Sticky Piston
Note Block
All colours of Stained Clay
Hardened Clay
Weighted Pressure Plate (Light)
Daylight sensor
There was also an option to remove all clothing.
List of Clothes
White, Red, Orange, Yellow, Light Green, Light Blue, Purple and Black Leather Armour
Chainmail Armour
There was also an option to remove all clothing.