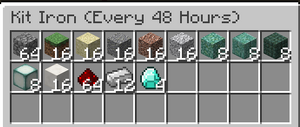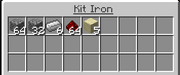 /Kit Iron is one of the Donator kits on Skyblock. Only Iron rank has access to it. You can use it every 48 hours.
Contents in Skyblock 3.0
Edit
64 Cobblestone
16 Grass Blocks
16 Sand
16 Andesite
16 Granite
16 Diorite
8 Prismarine
8 Prismarine Bricks
8 Dark Prismarine
8 Sea Lanterns
16 Quartz Blocks
64 Redstone
12 Iron Ingots
4 Diamonds
Contents in Skyblock 2.0
Edit
64 + 32 Cobblestone
6 Iron Ingots
64 Redstone
5 Sand
Ad blocker interference detected!
Wikia is a free-to-use site that makes money from advertising. We have a modified experience for viewers using ad blockers

Wikia is not accessible if you've made further modifications. Remove the custom ad blocker rule(s) and the page will load as expected.