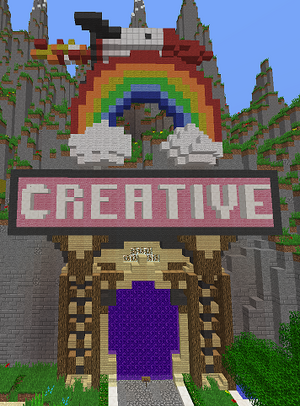 Creative is one of the gamemodes of Minecraft Central. It was added in 2nd February 2014. Players try to build good-looking plots and potentially get them to the plot spawn. There was a renovation made to Creative in 27th December 2015. The Creative server was reset for the first time on the 13th of December 2017. There is only one server for Creative.
General Info
There is no set goal for Creative. Players get to build on their plots and enjoy them through roleplays, for example. There are no other worlds than the plotworld on Creative.
The item in the Server Selector GUI is a Diamond block. The NPC in the Lobbies is Batman who is holding a Diamond block.
Resets And Renovations
There has been one reset on Creative, on the 13th of December 2017. Bigger plots and a new spawn were added. There was a renovation made in 27th December 2015 which added a new spawn and changed the plot plugin.
Donator Advantages
Search for a rank to see the perks Donators get on Creative.
Voting Rewards
These rewards listed here are given when the user votes on all 4 sites. In addition they get 4 Voting Keys.
Old Rewards
World Edit Access (24 Hours)
Treasure Chests
There are no Treasure Chests on Creative.