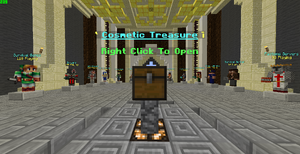 Cosmetic Treasure is a feature found from the
Lobbies
. Some of its features are global, meaning they work on all servers across MCC, and some are only for Lobbies. This feature was added on the 1st of April 2016.
There is a Cosmetic Treasure chest found in the Lobbies which can be opened to view your Cosmetic Shard and Cosmetic Treasure count and to open Cosmetic Treasures. Players receive a chest in Lobbies named Cosmetics Menu that is used to activate the Cosmetic features.
These treasures replaced the Treasure Chests in Lobbies and integrated the Minigame Cosmetics into the new system. It also integrated the Particle Effects system.
Cosmetic Keys
Edit
Cosmetic Treasures can be opened with Cosmetic Keys. Players obtain these either by crafting them from 4 Cosmetic Shards or playing Minigames. Previously before the 16th of September 2016 players could purchase them from the server webstore. They were sold in packages of 5, 10, 20 and 30. One Cosmetic Key opens one Cosmetic Treasure.
Cosmetic Shards
Edit
Cosmetic Shards can be used to craft Cosmetic Keys. Players obtain these shards by voting for the server. 4 Cosmetic Shards can be used to craft 1 Cosmetic Key. If you get a duplicate reward (a reward that you already have), you get 2 Cosmetic Shards in return. This used to be 1 Cosmetic Shard but was quickly changed to 2.
Obtaining Keys from Minigames
Edit
The rate at which you receive keys is determined by the amount of active playtime that you spend in Minigames (the amount of time you spend alive/playing). You shall randomly receive keys anywhere between 10 - 90 minutes. There is a limit of 15 keys per week. Only keys obtained through playing Minigames count towards this limit. The limit resets every Thursday.
Cosmetic Features
Edit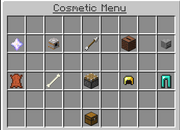 Cosmetic Features can be unlocked either by receiving them from Cosmetic Treasures, donating for a rank or donating for them separately.
Here is a list of the Cosmetics Categories: